Dr. Eric Goldburd, LAc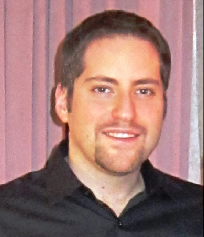 Eric Goldburd LAc. is dedicated to helping all of his patients to heal better, feel better, and live better. He began his career in the health professional field as a volunteer Emergency Medical Technician (EMT) in Northern New Jersey where he worked for five years. While working with the Emergency Medical Services, he realized that medicine and helping people is his passion. Before beginning his studies in Oriental Medicine, Eric attended Rutgers University where he earned a Bachelor's degree in Psychology in order to better understand the complexities of the mind and give the best possible counseling to his patients.
He earned his second Bachelor of Science and a Master of Science degree in Acupuncture from one of the most well-respected Acupuncture schools in the country, Pacific College of Oriental Medicine in New York City. There, he spent 4 years learning the art of Traditional Chinese Medicine (TCM) which not only includes acupuncture, but a number of different ancillary techniques including, moxibustion, Tui Na medical massage, gua sha, Qi Gong, and Tai Ji. He also studied Classical Acupuncture as well and Japanese-style Acupuncture techniques. In addition, he completed an internship at Kamwo Pharmacy's Grand Meridian Clinic in Chinatown, New York.
Eric also specializes in Facial Rejuvenation techniques. Using gentle techniques, very thin needles, and precise needling combinations, he is able to stimulate natural collagen production in the face which helps decrease fine lines and wrinkles. It is a natural and safe alternative to getting Botox injections. Facial Acupuncture also takes into account the overall well-being of the patient and helps to correct any internal imbalances while helping the patient to not only look better but feel better.
After several years of working with patients in a wide variety of different clinical settings in both New York & New Jersey areas, Eric is now taking his talents to the Philadelphia greater area and to Viva Healthy Life. He is very excited to join Dr. Tsan in his mission to provide the best quality of care to our patients.
Eric Goldburd is a licensed acupuncturist in the states of New York, New Jersey and Pennsylvania. He is a diplomate of the National Certification Commission for Acupuncture (NCCAOM). 
Eric Goldburd, LAc certified to use the following TCM techniques:
Auricular Acupuncture

Chinese Acupuncture

Dr. Tan's Acupuncture

Five Element Acupuncture

Japanese Acupuncture

Korean Acupuncture

Trigger Point Acupuncture

Cupping

Electro-acupuncture

Gua Sha

Herbal Medicine

Moxibustion

Qigong
Conditions Dr. Eric Goldburd, LAc serves patients with the following medical problems:
Allergies

Anxiety

Asthma

Back and Neck Pain

Depression

Digestive Problems

Fibromyalgia

Headache

Headaches

Infertility

Insomnia

Menopause

Migraine headaches

Neck pain

Pain

Pain Management

Sciatica

Stress

Arthritis

Back Disorders

Back Problems

Carpal Tunnel Syndrome

Fibromyalgia

Headaches

Herbology

Infertility

Migraines

Neck Disorders

Nutrition

Pain management

Shoulder Problems

Sports Injuries

Stress management

Weight Loss

Woman's health & wellness