Why to chose Radio Frequency Treatment
Radio Frequency Treatment – holistic skin rejuvenation procedure. Are you interested in looking younger and more beautiful? You have come to the right place. Here in the Viva Healthy Life Center for holistic medicine in Philadelphia, we are introducing a new form of cosmetic treatment that can help you achieve the beautiful youthful look that you have always dreamed of. Our medical professionals are introducing a new cutting edge technology called TriPolar Radio Frequency treatment. TriPolar Radio Frequency treatment is a revolutionary system of radio frequency treatment. This technology overcomes the setbacks of previous thermage and bipolar models. With this new technology, you can experience immediate improvement as well as long-term results without surgery.
 

Radio Frequency Cosmetic Treatment Explained
Most of you would like to know different non-invasive methods that can be applied to eradicate fine lines and wrinkles. If you would like to discover the basic idea behind those who look like they have retained their youth even after many years, then continue to read this article.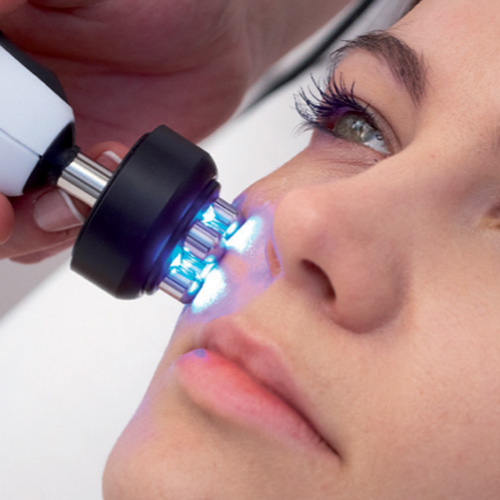 Radio Frequency is a treatment which is not known to plenty of people even today. The method is non-invasive and proven to be effective as well as safe. It helps to improve acne scars, acne, regenerate collagen and also black circles under your eyes. Your skin is tightening up with the help of electrical pulses generated by Radio Frequency and new collagen growth is stimulated which causes the wrinkles to smoothen out. Tissue tightening and contouring are encouraged actively by Monopolar radiofrequency (RF) technique. This helps to even wrinkles and makes your skin look plumper, which helps your skin become fairer, younger and tighter.
Although Cellulite's do not have any role in the process of aging, is another enemy which makes you look older than you actually are. The fibers which you take in are cleansed on a regular basis by fluids in your body. However, this cleansing system is retarded by poor circulation. Non cleansed fiber taps the fat cells and a network is formed as the time moves on. Because of this, waste materials start to accumulate. They become thick slowly and become very hard and immovable. The result of this is "orange peel effect", or cellulite. Some of the effects of cellulite in a person include a feeling of thickness or heaviness in the tenderness or legs whenever massaged or pressed. The good news here is that cellulite isn't any kind of disease. So it is possible for you to overcome it. Radio Frequency can be employed to treat cellulite, primarily on buttocks and thighs.
Radio Frequency has appeared to be one of the best non-invasive methods which improve body contours and stimulates new collagen. Radio Frequency is useful for women and men across all ages if you are one of those who starts consuming it at a younger stage, it might well help you in preventing wrinkles in your older age
As compared to the invasive techniques such as plastic surgery, Radio Frequency penetrates directly in your skin's lower levels as a result of which no visible damage is done to the actual surface of your skin. Hence, there is no reason why you should not be able to continue with your regular schedule. Radio Frequency is one of the most popular treatments across the world. 
There exist a home variant of a Radio Frequency network known as Genie RF100 Monopolar Radio Frequency house beauty system that will save hundreds if not thousands of bucks as you will not have to visit the beauty salon after using this. You will have complete privacy to treat yourself in your house as regularly as required by you. This will provide you with a small facelift without undergoing any type of complex surgery. It is also very easy and painless to use. 
Radio Frequency Cosmetic Treatment is crucial to keep your skin youthful as well as make you feel better outside and inside without any type of requirements like injections or pills. It has hardly any downtime and it does not need any kind of surgery. 
Everyone is aware of the fact that aging is a natural process but that should not make us sit back and let it occur. Of course, you should take care of your body and there exist plenty of things you could do to make sure your skin maintains its youthfulness for a longer period and remain healthy at the same time. 
Try to eat lots of green vegetables, nuts, fruits, as well as seeds. They provide vitamin A, C & E, antioxidants, minerals that prevent dangerous free radicals before they damage your skin. Getting enough sleep is also as necessary as other factors are to your skin and lack of sleep may have a considerable effect. Smoking is one of the leading factors of early aging as well. 
Our overall health and skin depend on the amount of vitamin D we receive from the sun, however, excessive sunlight can result in early wrinkles so don't forget to apply sunscreen, especially on your face, also be sure it has a good SPF factor that will protect you against harmful ultraviolet radiation. 
You can find Omega-3 fatty acids in fish, like tuna, sardines as well as salmon, which helps your skin remain youthful, smooth and supple for a longer time. Exercise also helps as it even your blood flow. Exfoliating two times a week eliminates dry, dead skin cells, and also helps to promote the generation of fresh new cells. Select a moisturizer which is natural as most of the products today have chemicals and ingredients which are not safe to your skin.
For more information about radio frequency cosmetic treatment and to make an appointment for treatment visit our home page Viva Healthy Life and ask Dr. Tsan.