NECK PAIN
One common medical condition is NECK PAIN in which pain is felt in the neck region between the base of the head to the top of a person's shoulder, and this can extend to the upper back should and even arms. The disease that affects the muscles,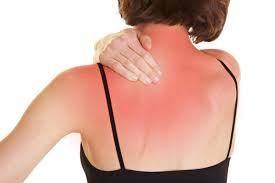 nerves, bones, glands trachea, blood vessels around the neck region can be responsible for NECK PAIN.
CAUSES of NECK PAIN
Many factors could be responsible for NECK PAIN. Some Infections such as staphylococcal and Tuberculosis, metabolic cause such as Osteomalacia, cervical spine stenosis, whiplash injury, stress, malignancy such as myeloma, metastatic carcinoma, a Mechanical disorder such as Spasmodic tort Collis, Cervical spondylitis and inflammation such as Ankylosing spondylitis, Polymyalgia rheumatic.
SYMPTOMS of NECK PAIN
Symptoms of NECK PAIN are obvious, and they include
Stiff neck

Weak and numb feeling accompanied with tingling in the arms

Cramps and soreness around the neck

Restriction in the movement of the neck and head.

Fever accompanied by vomiting experienced when Meningitis is the cause.
UPPER BACK PAIN
UPPER BACK PAIN is pain or discomfort felt in the lumbar spine. This pain comes from defects in the structures of the spine like muscles, nerves, bones, and ligament.
CAUSES of UPPER BACK PAIN
UPPER BACK PAIN can be as result of a different medical condition such a metastasis, diseases of the vertebral column like pott's spine, degenerative disc disease, spondylosis, Osteoporosis and Osteomalacia, and infection in the spinal cord. Other factors that could be responsible are obesity, poor sleeping mattresses, an effect of heavy lifting, injury and abnormal posture.
SYMPTOMS OF UPPER BACK PAIN
Symptoms of UPPER BACK PAIN include increased pain as a result of the movement, sitting or a particular posture.  Pain also extends to other parts such back of thigh, calf muscles and buttocks.  Restriction of movement around the upper back is also a sign. Other symptoms include the feeling of a sharp pain at the upper back after lifting a heavy object and inability to walk or stand upright as a result of spasm and stiffness.
DIAGNOSIS OF UPPER BACK AND NECK PAIN

S
There are different medical diagnoses that can be employed to identify the cause of NECK AND UPPER BACK PAIN.
Neurological Examination

History of pain experiences

Blood test

Physical Examination

X-ray of cervical spine

Urine culture

Bone scan

CT scan, MRI

Densitometry

MANTOUX test
HOMEOPATHIC TREATMENT OF UPPER BACK AND NECK PAINS
It is essential to identify the cause of pain to be able to administer the right treatment.
Homeopathy is a holistic treatment which is unique to each patient where a remedy is selected for a particular individual based on the peculiar symptom shown. This treatment ensures that complete health is restored by removing all symptoms from the patient by addressing the root of the pain. Available are a variety of potent homeopathic medicines for neck and back pain.
Here are some remedies below for the treatment of neck and back pain:
– For the treatment of swelling of cervical glands, tension, and stiffness of the neck

Caulophyllum – For stiffness of nape of the neck and cutting pain when closing hand.

Calcarea Flouricum – Essential for patient with cold sensitivity

Colocynthis- For pain in the back that affects an ability to stand or walk and such pain is felt on the upper thigh and buttock.

Bryonia Alba – for the experience of pain at every movement until movement comes to absolute rest.

Arnica Montana– For acute pain as a result of injury along with sore bruised feeling.

Actea Racemosa – For Pain in the muscle accompanied with restlessness and sleeplessness.

Hypericum – perfect remedy for nerve pain.

Fluoric Acid – For a rigid pain in nape of neck, weakness, and numbness of forearm and neck.
ACUPUNCTURE TREATMENT OF UPPER BACK AND NECK PAIN

S
Acupuncture is an effective treatment option in treating both NECK AND UPPER BACK PAIN. Acupuncture science attributes pain to be caused as a result of stagnation of Qi (energy) or in the form of blood in the body. The stagnation of this energy on a particular part of the body results in pain. While a mild pain is experienced due to Qi stagnation, a sharp and severe pain is experienced as a result of blood stagnation. Acupuncture corrects stagnation in both Qi and blood easing off the pain.
Acupuncture may be combined with the use of other herbs to ease off pain and help a speedy recovery. This will be on the recommendation of the holistic doctor and acupuncturist.
At the Viva Healthy Life Holistic Center Acupuncturists and homeopaths work under the supervision of the internationally recognized holistic practitioner, laureate of the Asian and European awards in integrative and alternative medicine, medical doctor Victor Tsan.