What is Gambling Addiction and How It Starts?
Is healing for gambling addiction, not the same as for drugs, alcohol, and nicotine addictions? What's the most effective treatment to for obsessive gamblers? How can close relatives, friends and family members inspire a gambler to get help?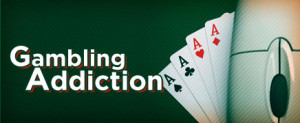 Since the year 2006, when the first 6 casino's licenses were issued in Pennsylvania, Dr. Tsan is practicing gambling addiction treatment in Philadelphia in his Holistic Medicine Center.
Card Games, Betting, Slots Machines, Internet Casinos, Horse Racing, and Lottery considered as common forms of gambling. Whenever the individual is spending more than "reasonable average" amount of time enjoying either of the activities listed above it can be considered as gambling addiction treatment in Philadelphia.
The definition of Gambling is "risking to some degree of significance on an occasion or action in which the ending is unpredictable".
The logical part of it is that by taking the chance, there will be an instant prize. Even for very skilled gamblers, the level of risk can be reduced, but the result still always uncertain.
Nationwide studies of the Gambling Addiction discover that:
Approximately 5% of US residents are suffering from Gambling Addiction.

1.5% of US Population are uncontrolled gambling addicts.

Sexual categories: 35% female; 65% male

Average gambling time per week: 18-20 hours per week

Average Amount of Loss: 47-50% of gross annual wages

What mainly initiates gambling: Monotony, Constant worry, Commercials

Longings & Compulsions happen before the involvement in the problem action.

Individuals that suffer from Gambling Addiction: loose time and money betting in a way that develops destructive.

The most common signs of Gambling Addiction are uncontrolled gambling activities that can be described as:
Acceleration – the gambling becomes an individual's needs to take a countless risk in order to gain back cash or to preserve some level of enjoyment.

Insufficient Control – a lack of ability to break betting activity when the current loss is significant. Most individuals with the gambling addiction will carry on gaming until all their funds lost.
Common Symptoms of Gambling Addiction Are:
Gambler is spending more time than he/she planned.

Having a bet "over the head" and after that "chasing the damages"

Being untruthful to friends and family members about the time spent and loss of money during gambling.

Being distracted from normal life, social meetings, and family activities because of gambling.

As gambling addiction continues to develop, the emotional state of guilt,

embarrassment

, and melancholy also develop.
Gambling Addiction may cause enormously damaging effects on an individual's life. Whether it is legal gambling or illegal, it would destroy personal connections as the fanatic turns out to be more possessed. Also, Gambling Addiction may put at risk an individual's line of business and economic steadiness.
Viva Healthy Life – The Center for Holistic Medicine practices individualized Gambling Addiction management programs to address the issues that each particular patient is suffering from. As a result, of this treatment, our compulsive gamblers patients can recapture control over family, social and business life.
Gambling Addiction and Emotional Wellbeing
Gambling Addiction frequently occurs along with multiple psychological problems. The individualized treatment plan should address all emotional concerns that are part of the general condition of the individual that suffers from Gambling Addiction.
Some of the emotional health problems related to Gambling Addiction are:
Unhappiness

Nervousness

Lack of self-confidence

Sadness

Hopelessness

Misery

Melancholy

A helpful Gambling Addiction healing strategy should comprise treatments that may recover the devotee's global psychological condition. At Viva Healthy Life – The Center for Holistic Medicine we use numerous of outpatient treatments to give to uncontrollable gamesters the support they require. These treatments are:
Gambling Addiction Treatment Strategies and Techniques:
Neuropsychological Evaluation to discover any primary emotional health illnesses

Individual hypnotherapy sessions, which benefit gambling addicts in learning the way to escape from gambling

Acupuncture that reliefs the stress and let patients with gambling addiction feel more comfortable.Family sessions to fix the associations broken by habitual gambling and construct new relations, which will maintain long-lasting companions.

Spiritual Treatment that empowers patients with the Gambling Addiction Philadelphia to control their daily activities through self-hypnosis, yoga, and meditation exercises. Because neurotic gamblers frequently have a problem to control their compulsions, they often have a lack of control in additional extents of life.
Gambling Addiction and Associated medical problems:
Drug Addiction

Nicotine Addiction

Alcohol Addiction

Porn Addiction

Shopaholic Syndrome

Internet Addiction

Bulimia

Sex Addiction
If you lost control over Gambling activities, Contact Viva Healthy Life – The Center for Holistic Medicine to set up initial free consultation ant to find out more about our individualized Gambling Addiction program.