Hypnotherapy Doctor in Philadelphia
A Hypnotherapy primarily addresses the patient's behavior problems by placing an individual into a hypnotic trance state and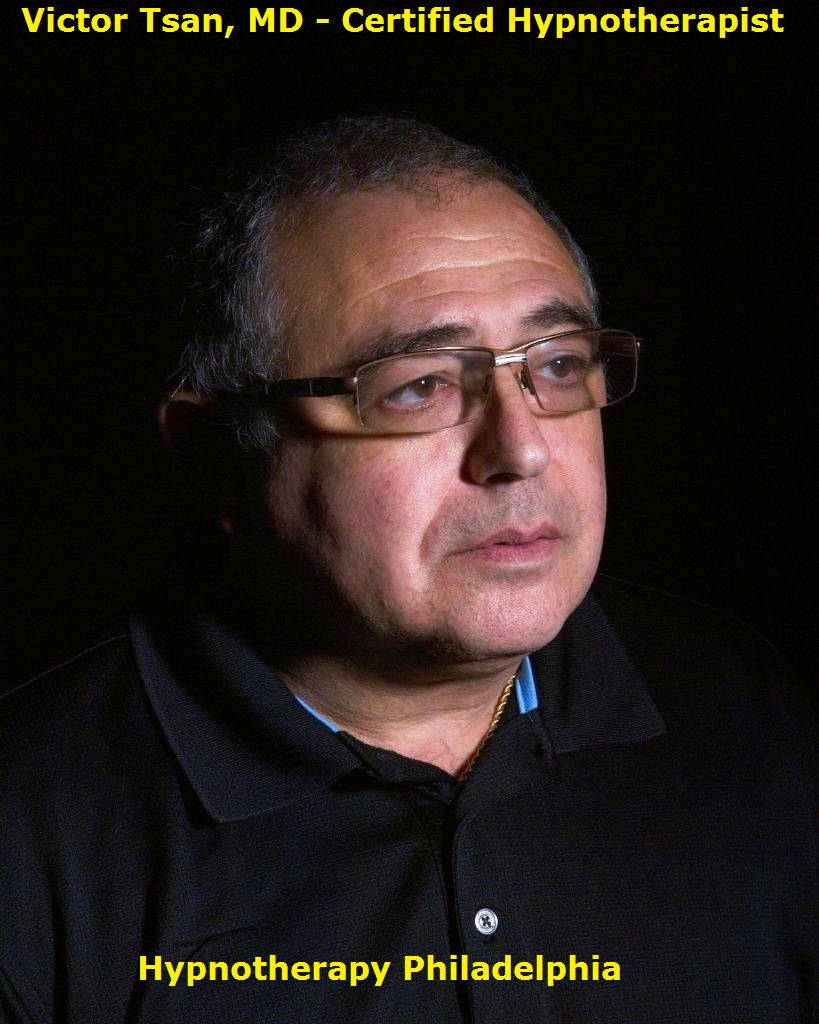 then using the positive suggestions that attract person's attention. The hypnosis practitioner would encourage the individual to compare some horrible, nauseating stuff with the bad nutrition, alcohol, cigarettes or drugs the patient is hooked on. Hypnosis may work for a long time, but the result may not be stable if something stronger happens.
For example, there is a couple and they both addicted to heroin. Hypnotist treats male and the success already reached. At this time the female threatens to leave because they don't have common interests in life. If the male member really loves this female and want to keep her he may start consuming heroin again. It happens because the pattern of consuming heroin has not been changed.
Opposite to the example above, the hypnotherapist will perform what we call "past life regression" technique to virtually send the patient back to his young age, find the factors that caused drug addiction and eliminate them in the archives of the individual's subconscious mind, but on the childhood time level. After "past life regression" session positive statements, recommendations and proposals will be embedded into client's subconscious mind forever. This is a fundamental difference between the hypnotherapy and hypnosis and this is the reason why patients are looking for hypnotherapists instead of the hypnotist. Hypnotherapy certification is different from hypnosis certification and in many states including Pennsylvania practicing hypnosis does not require any certifications or licenses whatsoever.
Philadelphia Hypnotherapy Treatment Method:
Hypnotherapy is a method of treatment for different medical disorders: depressions, nervousness, nicotine addictions, alcoholism, drug addictions, fears, constant worry, etc. Hypnotherapy must be provided by a medical practitioner that has hypnotherapy certification. Hypnosis, on the other hand, may be performed by anyone (even comedy show actors). All it requires – knowledge of how to hypnotize. In general, hypnosis is very similar to stage hypnotism that is performed for entertainment purposes and not for treatment.
Past life regression is a technique used in hypnotherapy when a patient wishes to acquire the blocked recollections and discover how the pattern created in the past impacts individual's actions in real time. If however the patient only interested to find out what happened in the earlier stages of his life without changing the created pattern, hypnosis is what needs to be done. Another word only hypnotherapy is a healing method approved for practicing regardless the fact that both hypnotherapy and hypnosis target the subconscious mind of the patient.
Dr. Tsan – developer of Best Hypnotherapy in Philadelphia
My name is Dr. Tsan and I am a Medical Doctor and a certified hypnotherapist. I graduated medical school in 1976 and since 1979 I use hypnotherapy as one of the main techniques in my everyday medical practice.
During my professional career, I graduated a few different most prestigious schools and qualifications of hypnotherapy in different countries including Great Britain, Belgium, and the USA.
When I started my practice in Philadelphia I decided to customize hypnotherapy technique for Philadelphians considering their most famous places of interests, favorite food and restaurants, and popular theaters and concert halls – everything that belongs to the City of Brotherly Love.
Consider this example… When I do hypnotherapy to the person who was born and spent most part of life somewhere in Honduras (the place which I do not know) I use classical hypnotherapy induction technique. However if my patient is Philadelphian who was born here and grew up on the streets of Philly I can remind him the Broad Street Bullies, The Penn and Italian Market – something very old that is locked in the archives of the memory and reminds about the happiest time of the childhood, first date, first kiss. These positive recollections help my clients to relax much faster and to open their subconscious minds for my suggestions. That what Hypnotherapy is all about. During the session, my patients see on a screen video from the streets of the city, favorite stores, churches, and stations.
I practice Hypnotherapy in Philadelphia at the Viva Healthy Life – The Center for Holistic Medicine, which I established 10 years ago in the heart of Northeast. My center ranked #1 Hypnotherapy facility in Philadelphia by Fox News and PHL17 for 2 years in a row. This rank based on the real reviews of my real patients.
See what my patients said about their experience with Best Hypnotherapy in Philadelphia:
4/1/2015
"After a car accident, I had the worst back pain that could only be helped by painkillers. Fearing I would get addicted a friend of mine recommended I saw Dr. Tsan. I am amazed because after only 2 sessions acupuncture and 1 session of Hypnotherapy in Philadelphia I feel much better, needing only half of my usual prescription medication."
1/24/2015
"Great medical center. They won the PHL17 contest in two different categories (medical spa and acupuncture). They also ranked #1 by Fox29 in 6 categories (hypnotherapy, stop smoking, naturopathic center, homeopathic clinic, acupuncture treatment, and holistic medicine). I became Dr. Tsan's patient 5 years ago and since that time he is treating me and all my family members for any medical problem."
11/4/2014
"How can acupuncture help for a toothache? It was Sunday night when I suddenly experienced a severe toothache. I called my dentist and he asked if the pain increases on cold or hot? I said on hot and he recommended to take Ibuprophen and to come to his office Monday afternoon for the root canal. The pain was so severe, but the pain killer did not help. One friend of mine said: "Call Dr. Tsan. I don't know if he can help for a toothache, but he is the best". I called him and he explained me over the phone the location of one acupuncture point that called He-Gu. He said: "Massage this point for 20 minutes and call me back". 20 minutes later I called Dr. Tsan just to say Thank You. The pain was gone. Dr. Tsan said that what I did has nothing to with acupuncture. That was his famous hypnotherapy technique. Next day I came to the dentist who performed the X-Ray. The result was negative for any dental diseases."
10/25/2014
"I came to Viva Healthy Life to Quit Smoking since they became famous in this area of medicine. Dr. Tsan performed his favorite treatment (the combination of acupuncture, homeopathy, and hypnotherapy) and sent me home. On my way home I've got an urge to take a cigarette as I never had before. I could not even think about to control myself. I just needed a cigarette. Of course, it was disappointing, since I paid $270 for treatment that gave me no benefits whatsoever. So, I called Dr. Tsan and told him about the problem. He was very calm and he said: "Stop at the pharmacy as soon as you can and buy a cartoon of your favorite cigarettes".  Come to my office tomorrow and I will refund you all $275. I stopped at the Wawa and bought a cartoon of my favorite Marlboro 100 Silver. I opened the pack, pulled out a cigarette and lighted it up. I knew that the most pleasant moment is coming and suddenly… The taste of this cigarette appeared to be so bad that I could not even control myself and I threw up. Right, that moment I understood – it was the last cigarette in my life. I called Dr. Tsan to tell him the story and he said: "Come to my office – I owe you $70. When I charged you $270 for the procedure I knew you gonna buy cigarettes and I included the price of the cartoon in the price". You no longer need them, so bring me the rest of the cartoon and I will refund you $70. You will never smoke again". I did not come for a refund, but I know for sure I will not smoke. Thanks to Dr. Tsan"
10/11/2014
In 2014 this medical center voted #1 Medical Spa and Acupuncture facility in Philadelphia. I've been their client for years. My first visit was to quit smoking using Hypnotherapy method. Then they helped me to loose almost 100 lbs. of extra weight. Last time I've been treated for a severe lower back pain. I really trust this person – they always help me and the result is always positive.
10/4/2014
I came to this medical center because few of my friends had been hypnotized by Dr. Tsan and stopped smoking. I tried to quit a few times without any success… Dr. Tsan recommended 3 sessions of best Hypnotherapy in Philadelphia along with ear acupuncture. After the first one, I knew that I am on the right way. After the third session, Dr. Tsan did some kind of brain re-coding and I'm nicotine free now. Great.
7/1/2014
Magic touch. I came to Dr. Tsan for Reiki healing. I knew he is the Reiki Master, I knew he learned Reiki from Connie Bell-Dixon and I decided that he will be a good choice for me. I learned Reiki at some point of my life and I have 2nd level education in this healing technique. The magic started when Dr. Tsan lighted up the candles and place his hands over my body without actual physical contact. The emission of heat from his hands is unbelievable. He is full of energy, like a power factory. I do not want to talk about the disorder that brought me for the treatment, but this first and only one session made me feel good and all symptoms gone. Dr. Tsan is definitely a gifted healer. And by the way, his famous technique best Hypnotherapy in Philadelphia make his clinic different and better than any other.
6/17/2014 Updated review
I've been using services at Viva Healthy Life for a long time. Actually, I'm a medical Doctor and I know Dr. Tsan (the medical director of Viva) since 2004. He treated my nice from infertility and she delivered healthy boy who is now 8 years old. He treated my girlfriend from severe depression and she is ok now. Many people are really happy with his services and his partner Dr. Selcova also very professional. She is young and full of energy. It's a pleasure to be treated in this office. All problems go away faster
4/4/2014
I had 6 Hypnotherapy in Philadelphia sessions at this facility for alcohol addiction. I stopped drinking and it's almost a year since I can't even think about alcohol. Dr. Tsan helped me and I appreciate his great job.
3/24/2014 Updated review
I called this office when my doctor told me that either I lose 60 lbs. or I have a very bad prognosis with my diabetes. My sugar was sky high and my weight was 80 lbs. above normal. Dr. Tsan recommended Hypnotherapy treatment in Philadelphia and particularly his famous "stomach mind band" method. This is a procedure during which he makes me think that my stomach decrease in size and I can consume the only small amount of food. Well, it was so real. After I got up from the "trans" I really believed in this. I almost stopped eating because after a really small amount of food I felt FULL. After the first week, I lost 15 lbs. the Second week another 10. I knew I was on a right way. The final result was good and I lost total 58 lbs. Yes, I recommend Dr. Tsan. The reviews I found about him were really truthful. And his personality was so good. All went OK, and I am happy in the end. My family doctor said that I don't have to switch in Insulin as he thought before. Thank you, Dr. Tsan.